Enter through the
Emergency Department
Hospital registration, billing and out-patient services please enter through the Emergency Department.
Need lab work or X-Rays?
Get them done at DeQuincy Memorial Hospital
Get the Health Care
You Need 24/7
Your Health is Our Priority
We Take Your Health Seriously
Our hospital is located in the heart of DeQuincy, LA. We're committed to providing compassionate, community-based care and a positive patient experience.
Dealing with medical issues can be scary, frustrating and often confusing. You need a hospital that truly cares about you as a patient. When you need medical or behavioral health services , come to DeQuincy Memorial Hospital. The staff of our top-notch emergency room stands ready to help you at any hour.
Call or visit DeQuincy Memorial Hospital in DeQuincy, LA for more information on our behavioral health services! The Behavioral Health Unit provides 24-hour care and supervision in a therapeutic environment. The newly built facility is located behind the main hospital...
We're here for you when you need us most.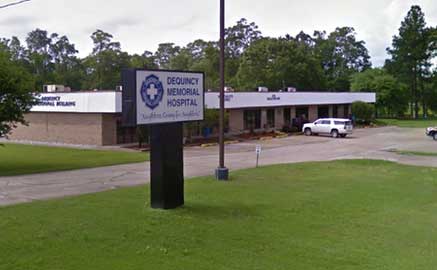 Our outstanding doctors, nurses and health care professionals use cutting-edge technology to bring you quality health care. Our hospital provides:
24-hour emergency care services
Cardiology services
Laboratory services
Radiology services
Inpatient pharmacy services
Outpatient speech therapy services
Outpatient respiratory therapy services
Outpatient physical therapy services
Whether you need the services of an ER or a medical testing facility, you can count on DeQuincy Memorial Hospital when a health problem arises. Call 337-786-1200 now to find out more about our medical services.
We are very proud of our friendly, small town atmosphere and continue to preserve our unique cultural and historic heritage. Recreational opportunities abound that include parks, skating rink, skate, and BMX bike park, museum and tennis courts.